Svetozar Gligoric
Svetozar Gligorić was a Serbian and Yugoslav chess grandmaster and musician. He won the championship of Yugoslavia a record twelve times, and is considered the best player ever from Serbia. In 1958, he was declared the best athlete of Yugoslavia.
Este texto e pequeno retrato são da Wikipédia, onde poderá ler mais sobre o jogador.
Pode adicionar o jogador ao filtro, e reproduzir desafios de combinações baseados na partidas dessa jogador.
Pode apreciar a lista dessas combinações em baixo, com as mais difíceis em primeiro lugar.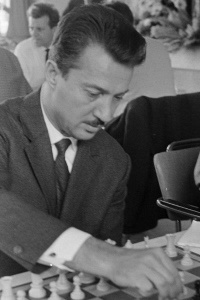 Combinações