Richard Rapport
Richárd Rapport is a Hungarian-Romanian chess grandmaster. A chess prodigy, he earned his grandmaster title at the age of 13 years, 11 months and 6 days, making him Hungary's youngest ever grandmaster. He was the Hungarian Chess Champion in 2017 and was the 5th highest rated player in the world as of May 2022.
Este texto e pequeno retrato são da Wikipédia, onde poderá ler mais sobre o jogador.
Pode adicionar o jogador ao filtro, e reproduzir desafios de combinações baseados na partidas dessa jogador.
Pode apreciar a lista dessas combinações em baixo, com as mais difíceis em primeiro lugar.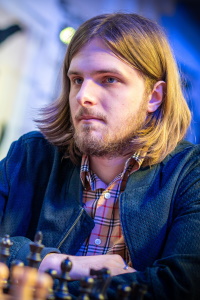 Photo: Lennart Ootes
Combinações