Jan-Krzysztof Duda
Jan-Krzysztof Duda is a Polish chess grandmaster. A prodigy, he achieved the grandmaster title in 2013 at the age of 15 years and 21 days. Duda won the Polish Championship in 2018 and the Chess World Cup in 2021. He was awarded the Golden Cross of Merit for his achievements in chess.
Este texto e pequeno retrato são da Wikipédia, onde poderá ler mais sobre o jogador.
Pode adicionar o jogador ao filtro, e reproduzir desafios de combinações baseados na partidas dessa jogador.
Pode apreciar a lista dessas combinações em baixo, com as mais difíceis em primeiro lugar.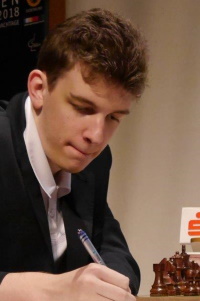 Combinações