Daniil Dubov
Daniil Dmitrievich Dubov is a Russian chess grandmaster. He achieved his final norm for the Grandmaster title at the age of 14 years, 11 months, 14 days in 2011. He is a former world rapid champion, winning the World Rapid Chess Championship held in Saint Petersburg from 26 to 28 December 2018. He is ranked 38th in the world as of August 2022.
Este texto e pequeno retrato são da Wikipédia, onde poderá ler mais sobre o jogador.
Pode adicionar o jogador ao filtro, e reproduzir desafios de combinações baseados na partidas dessa jogador.
Pode apreciar a lista dessas combinações em baixo, com as mais difíceis em primeiro lugar.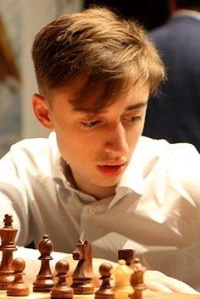 Combinações