Vidit Santosh Gujrathi
Vidit Santosh Gujrathi is an Indian chess grandmaster. He attained the title of grandmaster in January 2013, becoming the 30th player from India to do so. As of August 2022, he is the fifth highest rated player in India. He is the fourth Indian player to have crossed the Elo rating threshold of 2700.
Deze tekst en de miniatuurafbeelding zijn van Wikipedia, waar u meer kunt lezen over de speler.
U kunt de speler toevoegen aan het filter en problemen spelen die gebaseerd zijn op de partijen van de speler.
Een lijst van deze schaakproblemen staat hieronder, met de moeilijkste problemen eerst.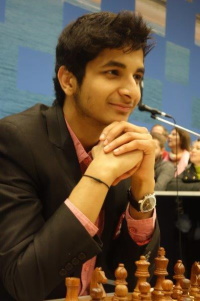 Schaakproblemen