Le Quang Liem
Lê Quang Liêm is a Vietnamese chess grandmaster, the top-ranked of his country. He was awarded the title of Grandmaster by FIDE in 2006. Liêm is the current Asian champion and was the World Blitz Chess Champion in 2013.
Deze tekst en de miniatuurafbeelding zijn van Wikipedia, waar u meer kunt lezen over de speler.
U kunt de speler toevoegen aan het filter en problemen spelen die gebaseerd zijn op de partijen van de speler.
Een lijst van deze schaakproblemen staat hieronder, met de moeilijkste problemen eerst.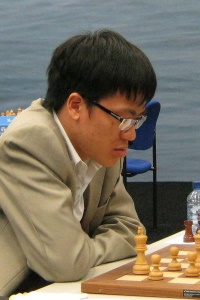 Schaakproblemen