Dmitry Andreikin
Dmitry Vladimirovich Andreikin is a Russian chess grandmaster, World Junior Chess Champion in 2010 and two-time Russian Chess Champion. He won the Tashkent leg of FIDE Grand Prix 2014–15 and finished runners-up in Chess World Cup 2013 and Belgrade leg of FIDE Grand Prix 2022.
Deze tekst en de miniatuurafbeelding zijn van Wikipedia, waar u meer kunt lezen over de speler.
U kunt de speler toevoegen aan het filter en problemen spelen die gebaseerd zijn op de partijen van de speler.
Een lijst van deze schaakproblemen staat hieronder, met de moeilijkste problemen eerst.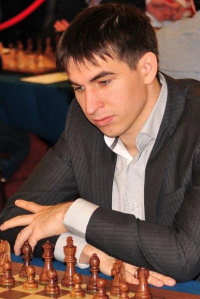 Schaakproblemen