Daniil Dubov
Daniil Dmitrievich Dubov is a Russian chess grandmaster. He achieved his final norm for the Grandmaster title at the age of 14 years, 11 months, 14 days in 2011. He is a former world rapid champion, winning the World Rapid Chess Championship held in Saint Petersburg from 26 to 28 December 2018. He is ranked 38th in the world as of August 2022.
Deze tekst en de miniatuurafbeelding zijn van Wikipedia, waar u meer kunt lezen over de speler.
U kunt de speler toevoegen aan het filter en problemen spelen die gebaseerd zijn op de partijen van de speler.
Een lijst van deze schaakproblemen staat hieronder, met de moeilijkste problemen eerst.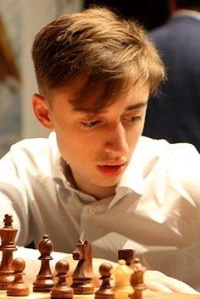 Schaakproblemen