Vidit Santosh Gujrathi
Vidit Santosh Gujrathi is an Indian chess grandmaster. He attained the title of grandmaster in January 2013, becoming the 30th player from India to do so. As of August 2022, he is the fifth highest rated player in India. He is the fourth Indian player to have crossed the Elo rating threshold of 2700.
Teks ini dan sekilas gambar dari Wikipedia, yang mana anda dapat membaca selanjutnya tentang pecatur ini.
Anda dapat menambahkan pemain pada filter, dan memainkan problem berdasarkan partai catur master.
Sebuah daftar dari problem catur ini ada di bawah ini, dengan menampilkan problem catur tersulit lebih dulu.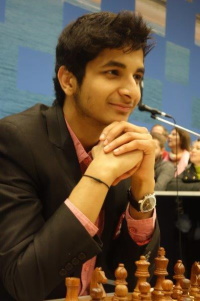 Problem