Richard Rapport
Richárd Rapport is a Hungarian-Romanian chess grandmaster. A chess prodigy, he earned his grandmaster title at the age of 13 years, 11 months and 6 days, making him Hungary's youngest ever grandmaster. He was the Hungarian Chess Champion in 2017 and was the 5th highest rated player in the world as of May 2022.
Teks ini dan sekilas gambar dari Wikipedia, yang mana anda dapat membaca selanjutnya tentang pecatur ini.
Anda dapat menambahkan pemain pada filter, dan memainkan problem berdasarkan partai catur master.
Sebuah daftar dari problem catur ini ada di bawah ini, dengan menampilkan problem catur tersulit lebih dulu.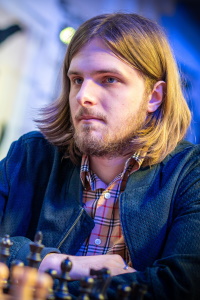 Photo: Lennart Ootes
Problem