Carlsen, Magnus
Sven Magnus Øen Carlsen is a Norwegian chess grandmaster who is the current World Chess Champion, World Rapid Chess Champion, and World Blitz Chess Champion. Carlsen first reached the top of the FIDE world rankings in 2010, and trails only Garry Kasparov in time spent as the highest rated player in the world. His peak classical rating of 2882 is the highest in history. Carlsen also holds the record for the longest unbeaten run in chess.
Teks ini dan sekilas gambar dari Wikipedia, yang mana anda dapat membaca selanjutnya tentang pecatur ini.
Anda dapat menambahkan pemain pada filter, dan memainkan problem berdasarkan partai catur master.
Sebuah daftar dari problem catur ini ada di bawah ini, dengan menampilkan problem catur tersulit lebih dulu.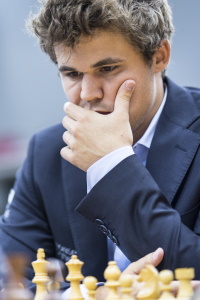 Problem