Vladislav Artemiev
Vladislav Mikhailovich Artemiev is a Russian chess player and former chess prodigy. He was awarded the title of Grandmaster in 2014. Artemiev is the 2019 European champion. He won the individual board performance gold medal as well as team gold medal at World Team Chess Championship 2019. He participated in Chess World Cup 2015, 2017, 2019 and 2021 where he was knocked out in the round of 16 by Sergey Karjakin.
Ovaj tekst i sličica su sa Wikipedije, gdje možete pročitati više o igraču.
Možete dodati igrača u filter, pa rješavati zagonetke bazirane na partijama tog igrača.
Lista tih zagonetki je ispod, poredane po težini (prvo one najteže).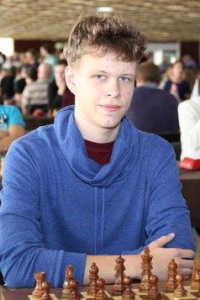 Zagonetke