Vidit Santosh Gujrathi
Vidit Santosh Gujrathi is an Indian chess player. He attained the title of Grandmaster in January 2013, becoming the 30th player from India to do so. As of August 2022, he is currently third; while on the live ratings, he is the fifth highest rated player in India. He is the fourth Indian player to have crossed the Elo rating threshold of 2700.
Ovaj tekst i sličica su sa Wikipedije, gdje možete pročitati više o igraču.
Možete dodati igrača u filter, pa rješavati zagonetke bazirane na partijama tog igrača.
Lista tih zagonetki je ispod, poredane po težini (prvo one najteže).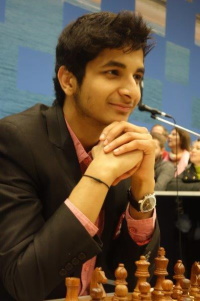 Zagonetke