Pentala Harikrishna
Pentala Harikrishna is an Indian chess grandmaster. He became the youngest grandmaster from India after attaining the title in 2001, a record now held by Gukesh D. He was Commonwealth Champion in 2001, World Junior Champion in 2004, and Asian Individual Champion in 2011. He is currently third highest rated player in India. Harikrishna won the Tata Steel Group B in 2012 and the Biel MTO Masters Tournament Open event in 2013. He represented India at seven Chess Olympiads from 2000 to 2012 and won team Bronze at the World Team Chess Championships in 2010. At the Asian Team Championships, Pentala won team gold once, team silver twice and individual bronze once.
Ovaj tekst i sličica su sa Wikipedije, gdje možete pročitati više o igraču.
Možete dodati igrača u filter, pa rješavati zagonetke bazirane na partijama tog igrača.
Lista tih zagonetki je ispod, poredane po težini (prvo one najteže).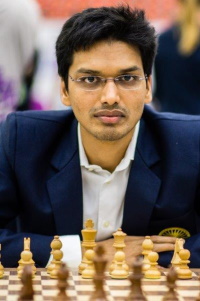 Zagonetke