Paul Keres
Paul Keres was an Estonian chess grandmaster and chess writer. He was among the world's top players from the mid-1930s to the mid-1960s, and narrowly missed a chance at a World Chess Championship match on five occasions. As Estonia was repeatedly invaded and occupied during World War II, Keres was forced by the circumstances to represent the former Soviet Union and Nazi Germany (1941–44) in international tournaments.
Ovaj tekst i sličica su sa Wikipedije, gdje možete pročitati više o igraču.
Možete dodati igrača u filter, pa rješavati zagonetke bazirane na partijama tog igrača.
Lista tih zagonetki je ispod, poredane po težini (prvo one najteže).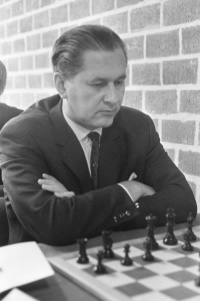 Zagonetke