Miguel Najdorf
Miguel Najdorf was a Polish–Argentinian chess grandmaster. Originally from Poland, he was in Argentina when World War II began in 1939, and he stayed and settled there. He was a leading world player in the 1940s and 1950s, and is also known for the Najdorf Variation, one of the most popular chess openings.
Ovaj tekst i sličica su sa Wikipedije, gdje možete pročitati više o igraču.
Možete dodati igrača u filter, pa rješavati zagonetke bazirane na partijama tog igrača.
Lista tih zagonetki je ispod, poredane po težini (prvo one najteže).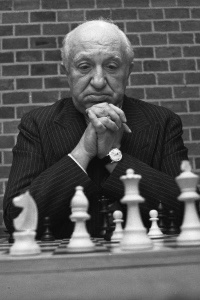 Zagonetke