Gabriel Sargissian
Gabriel Eduardi Sargissian is an Armenian chess grandmaster. He was a member of the gold medal-winning Armenian team at the Chess Olympiads in 2006, 2008 and 2012 and at the World Team Chess Championship in 2011. Sargissian was awarded the Movses Khorenatsi medal in June 2006 and awarded the Honoured Master of Sport of the Republic of Armenia title in 2009.
Ovaj tekst i sličica su sa Wikipedije, gdje možete pročitati više o igraču.
Možete dodati igrača u filter, pa rješavati zagonetke bazirane na partijama tog igrača.
Lista tih zagonetki je ispod, poredane po težini (prvo one najteže).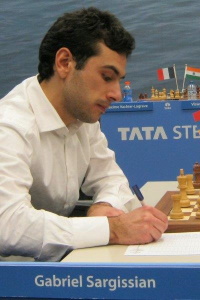 Zagonetke