Efim Geller
Efim Petrovich Geller was a Soviet chess player and world-class grandmaster at his peak. He won the Soviet Championship twice and was a Candidate for the World Championship on six occasions. He won four Ukrainian SSR Championship titles and shared first in the 1991 World Seniors' Championship, winning the title outright in 1992.
Ovaj tekst i sličica su sa Wikipedije, gdje možete pročitati više o igraču.
Možete dodati igrača u filter, pa rješavati zagonetke bazirane na partijama tog igrača.
Lista tih zagonetki je ispod, poredane po težini (prvo one najteže).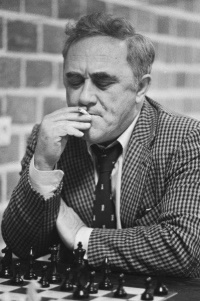 Zagonetke