Ding Liren
Ding Liren is a Chinese chess grandmaster. He is the highest rated Chinese chess player in history and is also a three-time Chinese Chess Champion. He was the winner of the 2019 Grand Chess Tour, beating Maxime Vachier-Lagrave in the finals and winning the 2019 Sinquefield Cup, as the first player since 2007 to beat Magnus Carlsen in a playoff. Ding is the first Chinese player ever to play in a Candidates Tournament and pass the 2800 Elo mark on the FIDE world rankings. In July 2016, with a Blitz rating of 2875, he was the highest rated Blitz player in the world.
Ovaj tekst i sličica su sa Wikipedije, gdje možete pročitati više o igraču.
Možete dodati igrača u filter, pa rješavati zagonetke bazirane na partijama tog igrača.
Lista tih zagonetki je ispod, poredane po težini (prvo one najteže).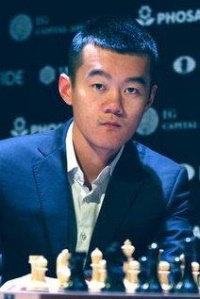 Zagonetke