David Bronstein
David Ionovich Bronstein was a Soviet and Russian chess player. Awarded the title of International Grandmaster by FIDE in 1950, he narrowly missed becoming World Chess Champion in 1951. Bronstein was one of the world's strongest players from the mid-1940s into the mid-1970s, and was described by his peers as a creative genius and master of tactics. Also a renowned chess writer, his book Zurich International Chess Tournament 1953 is widely considered one of the greatest chess books ever written.
Ovaj tekst i sličica su sa Wikipedije, gdje možete pročitati više o igraču.
Možete dodati igrača u filter, pa rješavati zagonetke bazirane na partijama tog igrača.
Lista tih zagonetki je ispod, poredane po težini (prvo one najteže).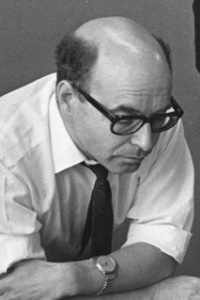 Zagonetke