Alexandra Kosteniuk
Alexandra Konstantinovna Kosteniuk is a Russian-Swiss chess grandmaster who is the reigning Women's World Rapid Chess Champion, and the former Women's World Chess Champion from 2008 to 2010. She was European women's champion in 2004 and a two-time Russian Women's Chess Champion. Kosteniuk won the team gold medal playing for Russia at the Women's Chess Olympiads of 2010, 2012 and 2014; the Women's World Team Chess Championship of 2017; and the Women's European Team Chess Championships of 2007, 2009, 2011, 2015 and 2017; and the Women's Chess World Cup 2021.
Ovaj tekst i sličica su sa Wikipedije, gdje možete pročitati više o igraču.
Možete dodati igrača u filter, pa rješavati zagonetke bazirane na partijama tog igrača.
Lista tih zagonetki je ispod, poredane po težini (prvo one najteže).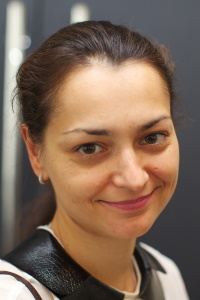 Zagonetke