Valentina Gunina
Valentina Evgenyevna Gunina is a Russian chess grandmaster. She has won thrice the Women's European Individual Chess Championship and four times the Russian Women's Championship. She was a member of the gold medal-winning Russian team at the Women's Chess Olympiads of 2010, 2012, 2014, at the Women's European Team Chess Championships of 2007, 2009, 2011, 2015, 2017, 2019 and at the Women's World Team Chess Championship of 2017.
Ce texte et l'image de la vignette proviennent de Wikipédia, où vous pouvez lire plus sur le joueur.
Vous pouvez ajouter le joueur au filtre, et faire des puzzles en fonction des parties du joueur.
Vous trouverez ci-dessous une liste de ces puzzles, en commençant par les plus difficiles.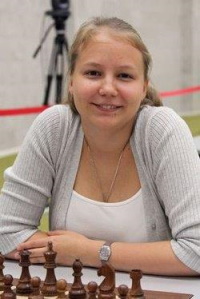 Puzzles