Jose Raul Capablanca
José Raúl Capablanca y Graupera was a Cuban chess player who was world chess champion from 1921 to 1927. A chess prodigy, he is widely renowned for his exceptional endgame skill and speed of play.
Ce texte et l'image de la vignette proviennent de Wikipédia, où vous pouvez lire plus sur le joueur.
Vous pouvez ajouter le joueur au filtre, et faire des puzzles en fonction des parties du joueur.
Vous trouverez ci-dessous une liste de ces puzzles, en commençant par les plus difficiles.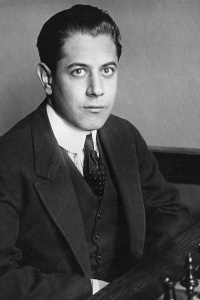 Puzzles