Daniil Dubov
Daniil Dmitrievich Dubov is a Russian chess grandmaster. He achieved his final norm for the Grandmaster title at the age of 14 years, 11 months, 14 days in 2011. He is a former world rapid champion, winning the World Rapid Chess Championship held in Saint Petersburg from 26 to 28 December 2018. He is ranked 38th in the world as of August 2022.
Ce texte et l'image de la vignette proviennent de Wikipédia, où vous pouvez lire plus sur le joueur.
Vous pouvez ajouter le joueur au filtre, et faire des puzzles en fonction des parties du joueur.
Vous trouverez ci-dessous une liste de ces puzzles, en commençant par les plus difficiles.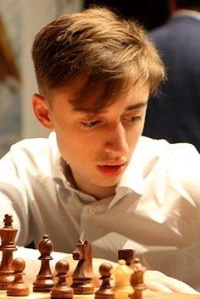 Puzzles