Robert James Fischer
Robert James Fischer was an American chess grandmaster and the eleventh World Chess Champion. A chess prodigy, he won his first of a record eight U.S. Championships at the age of 14. In 1964, he won with an 11–0 score, the only perfect score in the history of the tournament. Qualifying for the 1972 World Championship, Fischer swept matches with Mark Taimanov and Bent Larsen by 6–0 scores. After another qualifying match against Tigran Petrosian, Fischer won the title match against Boris Spassky of the USSR, in Reykjavík, Iceland. Publicized as a Cold War confrontation between the US and USSR, the match attracted more worldwide interest than any chess championship before or since.
Ce texte et l'image de la vignette proviennent de Wikipédia, où vous pouvez lire plus sur le joueur.
Vous pouvez ajouter le joueur au filtre, et faire des puzzles en fonction des parties du joueur.
Vous trouverez ci-dessous une liste de ces puzzles, en commençant par les plus difficiles.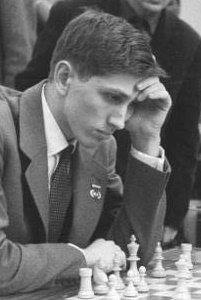 Puzzles