Alireza Firouzja
Alireza Firouzja is an Iranian-French chess grandmaster. He is the youngest-ever 2800-rated player, beating the previous record set by Magnus Carlsen by more than five months. His peak ranking was No. 2, which he held from December 1, 2021, to May 1, 2022. He is also the youngest player ever to cross 2900 rating in blitz chess, achieved on Aug 30, 2022.
Ce texte et l'image de la vignette proviennent de Wikipédia, où vous pouvez lire plus sur le joueur.
Vous pouvez ajouter le joueur au filtre, et faire des puzzles en fonction des parties du joueur.
Vous trouverez ci-dessous une liste de ces puzzles, en commençant par les plus difficiles.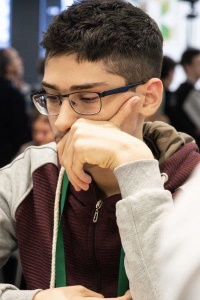 Puzzles