Vidit Santosh Gujrathi
Vidit Santosh Gujrathi is an Indian chess player. He attained the title of Grandmaster in January 2013, becoming the 30th player from India to do so. As of August 2022, he is the fifth highest rated player in India. He is the fourth Indian player to have crossed the Elo rating threshold of 2700.
Tämä teksti on Wikipediasta, jossa voit lukea lisää about the player.
Voit lisätä pelaajan suodattimeen ja play puzzles perustuen pelaajan peleihin.
Tehtävien lista on alla, vaikeimmat tehtävät ensimmäisenä.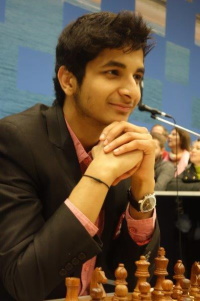 Tehtävät